About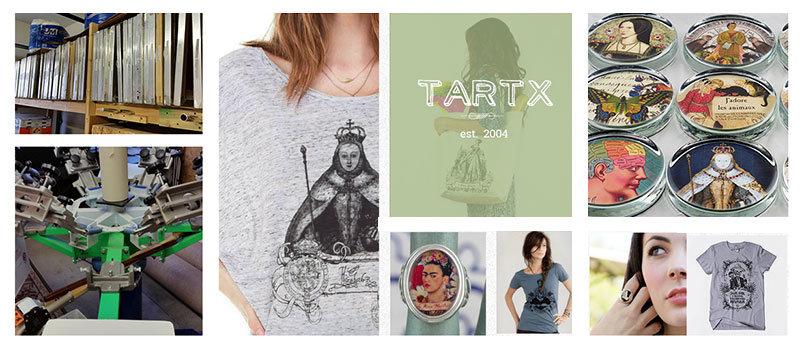 Our Store
We handcraft everything in our studio & down the road at our production partner's (Tiffini's dad) shop in Colorado. We strive to create beautiful and unique designs with a strong emphasis on using 100% certified organic cotton, eco responsible low impact dyes and a devotion to sustainable recourses.
Our Story
Once upon a time, we (Tiffini and Eric) had a wedding. It was a unique wedding, filled with characters; a narrator, jester, king, princess, frog. It was 104 degrees and felt like 110. The wedding was sprinkled and saturated with minor allusions of subversion. Some caught on, others just thought it was sweet. And it was that too. We had a blast that day. Since that day, over 20 years ago we have been so fortunate to be able to work together, travel and play together and in the past 10 years build a business together. For the past 10 years we have had a Coat of Arms as a symbol of our philosophy of our business and as a symbol of the business itself. First, if you notice the frog on the top right. That's Eric. He's more enamored with Tiffini than he was over 20 years ago on that very, very, VERY hot day. He's also taken up playing music over the past 15 years or so, so he's holding a guitar to exemplify his love of music. Tiffini is represented by the Cat holding an artist palette. We have had 4 cats as well as 1 dog in our relationship, all wonderful special beings (2 that are still here with us today ) and this is an homage to all of them. Tiffini is the creative mind behind Tartx and her passion of art is shown through the palette. We wanted a strong design across the face of the coat of arms and we both have an affinity for the chevron design. Honestly it doesn't signify anything special to us as a symbol, we both just like the aesthetics of the design. On the left of the crest we have added hops and hop vines and on the right we have added grapes and grape vines. The reasons for this probably speak for themselves.
We are really proud of the logo for Tartx and what it represents to us and the love we have in the work we do and products we make. We want to sincerely thank everyone who has supported us over the past 10 years as we have slowly grown and changed. A lot has changed since those early days, but like all good things, a lot has stayed the same. Our commitment to our original ideals of hard work, independence and integrity are as strong as ever and we hope we can continue to make Tartx.com an inspiring place to visit.